MICRO FUND GRANT OF £2,110
Upper Rhondda Brass Band – Micro Fund Grant of £2,500 to re-furbish a worn and damaged Tuba.
The project was to refurbish a Eb Bass from a poor condition (dented, scratched and tarnished), the bass was striped of its silver plating all dents removed all parts cleaned and checked for damage. On stripping the Bass it was discovered that the lead pipe for the mouth piece was severely damaged with saliva deposits due its age and was replaced at an additional cost.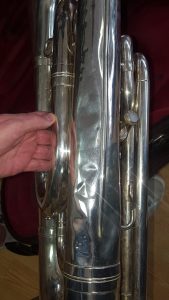 The Bass has been refurbished to a high standard and is as good as its original condition.
"The whole Band has benefitted from the Tuba with its improved sound and outstanding appearance really standing out with its shine
The refurbishment went well after a few delays and we were really pleased with the look and sound of the instruments with a number players offering to learn the Tuba because it looked so impressive.
The refurbishment has exceeded all our expectations for such an old instrument" – John Powell
The Band has recently moved to the old council offices in Pentre, appointed a new Musical Director and in 2018 the Band has achieved the following: Promotion to Section 2 Locally / Welsh National Champions Section 4 / National Eisteddfod Champions Section 4 / Represented Wales in the UK Brass Band Championships
The refurbishment of the Bass has made a big difference to the sound of the Band and has helped them on a successful year.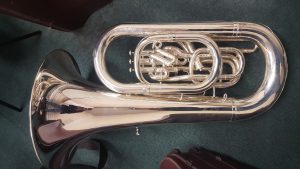 How this project met the fund's priorities:
Local, culture and heritage are valued as a local resource for education, self-expression and tourism / Encourage participation in cultural activities / Upgrade/provide musical equipment for established groups