MICRO FUND GRANT – £4,940
This project was to continue and grow Treorchy provision – Treorchy has now become the largest of all their 4 junior clubs and this season had an average of 165 people attending each week. The Micro Fund grant supported costs of Head Coach, Assistant Coaches and facility hire for the season.
"Each age group at our junior level in Treorchy has expanded with thanks to the generous grant from Pen y Cymoedd. We were completely surprised with the uptake on the Rascals programme. Our expectation was to have 20 participants at those age groups knowing the lack of access we have to the local infant schools in the region in comparison to the Primary schools. The Under 5's & Under 7's (Rascals) sessions attracted 74 girls in the Treorchy region alone; these were our most successful Rascals sessions out of the entire programme. It truly has been wonderful to see how many females are taking to Rhondda Netball to fulfil not just their health/fitness needs but to give them a "family" and a sense of belonging. It has made us recognise the need for our new motto, "Rhondda Netball – More than Sport!".
PYC helped support the costs of our coaches at Treorchy who have done a phenomenal job of growing the club and pioneering our Rascals programme. Each coach is dedicated to continuing to make an impact on the young girls' lives and this wouldn't have been possible had it not been for Pen Y Cymoedd.
Parents have benefitted from the increased engagement from their daughters. It
also gives them the opportunity in Rascals to spend time with their daughters. From feedback from the parents themselves they are thrilled that their daughters get to be under the influence of such positive role models (our coaches) that daily encourage them to be the best that they can be. They also enjoy the fact that their daughters are no longer "bored", "roaming the streets", or "stuck on their phones in the house".
The coaches have also benefited from the increased opportunities to give back to their local communities and to impact so many young peoples' lives. It also has allowed our younger coaches to gain important leadership skills & development opportunities.
We are extremely excited about what the future holds at Treorchy!" 
– Jody Barnes Rhondda Netball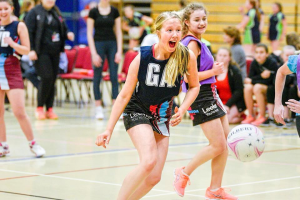 How this project met the fund's priorities:
Communities that are healthier and more active / Starting young to tackle long term issues / Support community spirit / Sustainable youth facilities, well-used and affordable / Peer mentoring