Pen y Cymoedd Investments
AFAN LODGE

Background and Initial Rescue Package
In 2019, Pen y Cymoedd Wind Farm Community Fund CIC (PyC CIC) was approached and worked with the owners and others to ensure Afan Lodge's continued contribution to the prosperity of the Afan valley and wider communities.
The PyC Board agreed that the hotel was a great asset in a location that had huge potential. The business had been shown to operate profitably in the past and could do so again in the future, with the right level of proactive business and financial management. The fund undertook a detailed financial review and analysis of the last five years' accounts and identified several potential options for PyC Board to consider. A decision was made to offer immediate support of £89,241.73 to the business, to prevent closure whilst PYC undertook a detailed option analysis.
Following appropriate due diligence, PyC successfully agreed, with the owners and their bankers to purchase the business directly to maintain the facility as a key business in the valley. The decision was taken to enable Afan Lodge to realise its strategic potential, preserving local employment and allowing for future broader developments, for the benefit of all stakeholders. It is now a wholly-owned subsidiary business of PyC CIC which is managed and run on PYC CIC's behalf by local staff – unleashing its potential to expand its offering in a variety of ways. PyC CIC has done this as part of its remit and mission to help stimulate and regenerate economic activity throughout the Fund's area of benefit.
This investment reflects the value PyC CIC places upon the need to secure quality visitor accommodation in the Afan Valley as a cornerstone of further economic development in the area.
What has happened since then?
After an exciting period of getting the Lodge ready for its re-launch with a light refurbishment and under new management, the Lodge opened on March 13th, 2020 only to be forced to close a week later by the Covid pandemic.
The Lodge has remained closed for much of the time since we invested due to the pandemic. However, the appointed Afan Lodge Directors have worked tirelessly to ensure the business survived the effects of a pandemic that had such a devastating impact on the hospitality industry
The Lodge submitted an application to the fund for a COVID grant of £66,999 and the proposal was considered by PyC Board members independent of the Lodge Board and supported. During the COVID period, Pen y Cymoedd offered a total of £570,000 of COVID funding to 53 organisations and businesses across the fund area to support them during the lockdown. To read more about how PyC supported the community during the pandemic, see here: Reflections on the Fund's impact during flooding and pandemic of 2020. – Pen Y Cymoedd Community Fund (penycymoeddcic.cymru)
August 2020 saw the Lodge open again but with fewer visitors than usual due to further limitations and understandably, increased public caution. Winter of 2020 was due to be the busiest period, but further lockdowns and restrictions hampered this again. The decision was taken to close the lodge, temporarily, to safeguard it for the future amidst the likelihood of still further Covid restrictions. Unlike many other businesses within the industry, we not only survived but also, with the help of government schemes, retained our staff and continued to support them throughout the pandemic so that we would be able to reopen stronger and better.
Since acquiring the Lodge, Pen y Cymoedd has made some inter-company loans to inject working capital into the business. Pen y Cymoedd offers a variety of funding including loans, grants and direct investment to community and private business's having an impact within the fund area.
Update Spring 2023
The location of the Lodge in the spectacular Afan valley makes it the ideal escape to walk, ride or even run the local waymarked trails and sample other hospitality in the area, or simply to relax and use as a base for visits to family or business trips. Further afield the beaches of Aberavon or Swansea are each within half hours' drive and the newly open Zip World at Hirwaun is 45 mins drive through wonderful mountain scenery. We now have a full kitchen team in place with a head chef who is highly experienced and regarded for his excellent standard of preparation/ presentation and cooking. Because of this team our Sunday lunch has become very popular and is receiving rave reviews, and booking is advisable. The lunchtime menu now also includes homemade speciality soups and other meals, the faggots are already renowned.
The Lodge regularly runs specials such as valentines and Mother's Day meal deals and the themed buffet nights are proving very popular. The hotel side is still not as buoyant as we would like but bookings are growing steadily.
The Lodge now offers:
• conference room facilities as well as the patio area;
• dog friendly bar and rooms;
• restaurant and 13 en-suite bedrooms and 2 family rooms with en-suites and small food preparation areas to each.
Currently the team comprises of 18 mainly full-time staff even though the Afan Lodge, like all the hospitality industry, continues to trade in challenging circumstances.
Alongside the encouraging trading for the Lodge there is also the positive development of the Lodge as a community asset. Local usage is increasing week on week which is not only for general socialising and eating but also special events put on and we have also been successful in attracting various family events such as baby showers, wedding parties, birthdays and funerals. We continue to employ lots of local people and are purchasing from local businesses including locally produced cider and meat. The original purchase intentions around the lodge being a community-based anchor organisation, bringing prosperity to the area, are now starting to become a reality.
Directors: PyC initially appointed three Directors from PyC but in 2021, two new board members were recruited externally to add hospitality experience and strengthen the business knowledge of the board. Two previous PyC Board members remain along with one current representative of PyC so there is a working Board of 5 Directors. These fresh eyes are helping drive the lodge forward to ensure it continues to offer local employment and training opportunities on a greater and greater scale.
Directors@afanlodge.wales
stay@afanlodge.wales / 01639 852500 / Afan Lodge, Afan Road, Duffryn Rhondda, SA13 3ES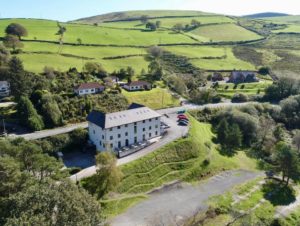 Update July 2023
The turnover has increased annually and the Lodge now employs 32 people (approximately 15 full time equivalents) and that is something we are very proud of in an area where jobs are more difficult to come by.
The premises consist of guest accommodation, a restaurant/bar with terrace, a room that can be hired to host meetings, ample car parking, and green areas leading down the hillside to the valley bottom, linking with tracks and trails that run throughout the valley and beyond. There are various nearby amenities for walkers and off-road cycling (notably the Afan Forest Park) that are well used.
Afan Lodge is in a stunning natural environment setting and the feedback we get regularly is that the food and restaurant are great value and great quality. This is an asset not only for local and wider community use but also in attracting tourists into the area and spending money locally.
The Social Value Act in England prompted the creation of the Social Value Framework, which has since been modified for usage in Wales to reflect the Wellbeing Future Generations Act. It provides a number of established metrics for assessing social effect, such as the social benefit of new or preserved jobs.
The median income for Neath Port Talbot County equates to £31,772 per year, according to the latest recent Office for National Statistics (ONS) data, which is from 2022. Looking at Afan Lodge, the employment amounts to an approximate £476,580 in social impact. That amounts to £1,191,450 throughout the course of the past 2.5 years of operation (excluding the original opening and first Covid lockout period).
Of course, managing a hospitality establishment in this environment still presents obstacles, but we are eager to see what comes next. While it is always sad to lose outstanding workers, we are delighted that some of the staff have gained valuable experience and abilities that have helped them to move forward in their professions and we wish them all the best for their careers. To further drive the business forward the Lodge has recently hired a new general manager, Simon Bevan, and we are excited about the skills he is bringing.
We invite you to help us along with the next phase of our journey by sharing your views and visiting the Lodge for Sunday lunch, evening meals or coffee and cake sometime soon, please like our Facebook page so you can keep up with developments, offers and opening times for service.
stay@afanlodge.wales / 01639 852500 / Afan Lodge, Afan Road, Duffryn Rhondda, SA13 3ES