Aberdare VAAC is a dedicated group who have been to point of almost closure and are now thriving – they have been operating for approximately 40 years and at the peak of the club's success it had over 200 athletes, a bus to ferry athletes to events as well as being the driving force for athletics in the Cynon valley. However, 7 years ago the track facilities in Aberdare were demolished to make way for the new school and with it went the Club's reputation as a competitive club and also its membership base.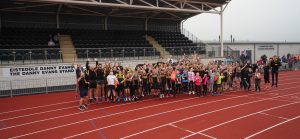 After much delay they were finally handed the keys to the brand-new athletics track and facilities in Aberdare as part of RCT CBC re-development and since that point in summer of 2018 they have gone from around 10 members to 150 active members now. They offer track and field, cross country and road running to all boys/girls, men and women from 8 years of age onwards and are currently operating at approximately 60% girls 40% boys.
They are extremely active on all social media platforms advertising the club on a weekly basis with a very good reach and they engage with the local schools, local authority and governing body to link up and work with them.
The grant we gave was to support level 2 coach courses so they could provide the inclusive training they need to keep members from travelling to more established clubs further afield. The grant also covered facility hire, kit and equipment and assisting them at this stage with upskilling, training and facility hire gave them space to develop and set all processes in place to become sustainable.
 "Thanks for coming to see us,  the kids loved having their photo taken and it was great to have you there to see what an impact your funding has had on us as a club, we as volunteers get great pleasure in just seeing the children enjoy themselves and enjoy training and competing, It's been a huge year for us and we have loved every minute. We look forward to generating even more interest in the club from seniors and junior athletes." – Keely Jarvis
How this met fund priorities: Communities that are healthier and more active / Starting young to tackle long-term issues / Communities with sporting facilities for all ages, well-used and maintained