2020 was a difficult year for many and a year no one could have imagined a position where the whole world would come to a standstill. Community groups closed their doors and organisations, and businesses were forced to adapt to new ways of working overnight. In amongst the chaos that COVID 19 brought, communities came together to support each other and face the challenges thrown at them with courage, positivity, and determination.
Pen y Cymoedd are proud to have supported some amazing groups and businesses over the years and hopefully sharing some of their stories will inspire others to be bold and creative in the future.
Too Good Too Waste
Too Good Too Waste started in 1995 with the aim of reducing the amount of household waste that went to landfill, offering affordable household furniture and electricals across the whole of RCT and to offer volunteering opportunities to residents to gain training, experience, and confidence. The organisation went on to open two sites in Ynyshir and Aberdare, saving nearly 75,000 pieces of furniture from landfill and supporting nearly 300 volunteers with over 50,000 unpaid hours of work experience by 2017. In September 2014, Too Good Too Waste found the perfect location to expand their operations to a third site, in an old Victorian school in Treorchy, however the building needed extensive renovation work, to transform it to the standard of their other showrooms. As part of their longer-term plans for sustainability, they approached Pen y Cymoedd to support the removal, replacement and insulation of the old slate roof, helping to reduce heating costs, provide infrastructure to allow for photovoltaic panels in the future and provide habitats for bird species in the roof space. Too Good Too Waste were successful in securing support from Pen y Cymoedd for the renovation work, along with support to create three full time jobs for residents for the first year and opened their new site June 2019, supporting over 20 volunteers so far.
When the area was hit by flooding in 2020, they secured funding and supported 46 local households with £7,447.50 worth of essential items that undoubtedly assisted them at a terrible time of crisis and need and continued to support the local community during the lockdown. Their showrooms are currently closed but we look forward to a time when they can safely re-open.
Pen y Cymoedd are committed to providing sustainable community facilities with fit for purpose buildings and space, whilst helping to create a range of quality and sustainable jobs that last long after the grant funding has ended.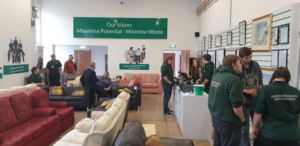 Blaengwrach Community Council
Blaengwrach Community Council is committed to listening to what their community wants and take forward big, bold projects, which can be enjoyed by all ages, for years to come. With a population of nearly 2000 and responsibility for three community facilities across the villages; The Welfare Hall, The Welfare Park and the Cemetery, the Community Council undertook a large consultation, and it was clear that the community wanted to develop the Welfare park into somewhere that all ages of the community could enjoy, for many years to come.
Pen y Cymoedd was asked to contribute towards their overall plans at the site and with significant match funding in place, PyC awarded £99,000 to create a new fixed play area, multi-use games area, bandstand area to be used by all ages and events, lighting and furniture and created a bespoke mining themed play area and multi-use sports facility at Cwmgwrach Welfare Park. Mining is of huge cultural significance to the people of Cymgwrach. Based on a list of customer requirements Wicksteed ensured that a fun mining theme was featured throughout the space and that the site was as inclusive as possible. The theme was created with a mix of bespoke play products and imaginative ground graphics.
Pen y Cymoedd are committed to looking after community spaces and future developments that have been planned out with and by the community, supporting long lasting facilities for all the community to enjoy for years to come.
COVID 19 has seen many of these facilities close to the public in 2020, however with the support of the community, the Community Council have provided a place for families and friends to meet and enjoy the fantastic facilities they now have access to on their doorstep.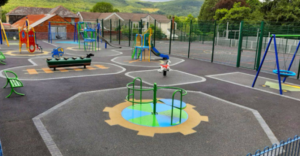 People and Work
People and Work have been supporting people of all ages learn new skills and access training for over 35 years in Wales. They have always been at the forefront of developing new and exciting projects and are committed to working with other organisations, to ensure their projects have the lasting impact they had once hoped. The initial founders of "StrongerRhondda", seen them bring together over 20 groups across RCT, to strengthen the support for all ages to access the training and skills they deserved and needed.
From their work with schools and groups across RCT, the team at People and Work had already established two community coding clubs across the Rhondda, but identified that to ensure these were sustainable longer term, they would need to support volunteer leaders to take over, whilst developing six new clubs across RCT, enabling young people to gain the skills and experience and how to access careers within this industry in the future, with the help of a Pen y Cymoedd grant to support a one year project, to engage volunteers, build capacity and code clubs across RCT, whilst making those connections within the industry.
With the success of weekly sessions across RCT, in community buildings, primary schools and colleges, with many more requests across the area, coronavirus brought a halt to these sessions in March 2021. However, People and Places continued their support virtually, providing resources and activities for teachers to share with pupils. This seen children, who had yet to engage, seeing the possibilities of this for the first time.
Committed to working with other groups and organisations, new and exciting projects have developed throughout COVID to address data poverty and digital exclusions across all ages. Working alongside the likes of RHA, they are offering a joint up approach to deliver support to develop skills and confidence to get online, whether that is for a bit of shopping, to see friends and family or to enjoy some of the old favourite films.
Pen y Cymoedd are committed to supporting groups and projects to develop IT skills and confidence, whilst upskilling and maintaining IT skills for all ages within our fund area. It is encouraging to see that an initial investment for one project has naturally led to building stronger partnerships with others in the fund area and developed into further projects and joint up working.
"Pen y Cymoedd's funding for 2019-2020 has opened a lot of doors and possibilities for further work in the digital field" James Hall Project Manager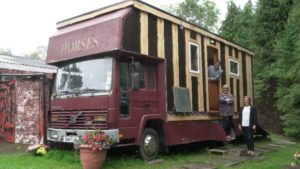 Hetty The Horse Box
The last few years has seen the potential for tourism in RCT with developments such as Zip World grow. Pen y Cymoedd Community Fund's vision is to support better accommodation options in the valleys and help to create a range of offers to bring tourists into the area.
In 2019, Keepers Retreat approached Pen y Cymoedd for support in providing a unique glamping experience and after much research, decided on offering Wales' first ever staycation in a horse box! With impressive and bold plans to convert a horse box, into a 4 berth, self-catering accommodation, with solar panels powering the electricity and log burner for heat, they were sure it would be a hit with tourists to the area. Welcoming their first visitors in July 2019, they saw a 90% occupancy from day one, even in the quieter months.
COVID19 restrictions meant it was only available for a few months in 2020, however looking outside of the "horsebox", after registering with agencies, they opened their doors to essential workers, working across sites, looking for accommodation. What better way to unwind after a day in work!
Hetty comes with optional extras such as a hot tub, which means, visitors can enjoy the natural beauty in the area in the day and unwind, under the stars in the evening. The range of accommodation they have with cottages and horsebox means the business can attract visitors looking for all sorts of holiday experiences and has helped build their vision of a top-quality tourism destination in the valleys.
"What a fantastic place! What they have done with this Horse box is nothing short of amazing! It is set in a beautiful part of the Country and we were lucky that we even got sunshine and blue skies in February! Great trip, highly recommended!"
The Fern Partnership
The Fern Partnership are a key childcare provider in RCT and since launching have expanded their services, to provide community hubs, secure services at risk of closure and work in partnership with other agencies, to provide employment, skills, and mental health training, just to mention a few.
Working collaboratively with RCT Local Authority and other key services across RCT, they were successful in securing Ferndale Primary school, which had closed the previous year. With plans to transform the old site, into an all-round community hub, creating employment and encouraging partnership working and co-production for services for the community, it fit with Pen y Cymoedd' s vision and commitment to support community assets to be run in the most affordable way with multi-functional hubs, bringing together groups and facilities to share spaces to avoid duplication, whilst creating a range of quality and sustainable jobs.
The Ferndale Hwb has become a real asset to the community, a resilience hub for the whole community throughout 2020, from providing support and care packages to the vulnerable, crafts packages for children, continuing to provide childcare for 20 key worker families during lockdowns and working collaboratively to support over 100 people to gain new skills, training and on to secure employment. They have a new Community Team, and they are running virtual job clubs and training sessions and have secured Lottery Funding to fund a Community Coordinator, Business & Centre Manager and Finance and HR & Admin Officer for 5 years – this may not have imagined the challenges they would face but the future looks bright for the Hwb.