There are a variety of options to advertise the funding that you've received from Pen y Cymoedd, these are what we would expect when you advertise your grant:
Displaying banners, posters and stickers
The printed material must be clearly displayed, this means that it should not be covered by another poster or flyer, not even a little bit.
They must be displayed for the period of time asked, this is a minimum requirement. You can keep it up after the discussed period if you would like to, but you must you must not take the material down in this timeframe. Once the timeframe has ended we will contact you to arrange collection of the banner, hard poster etc.
If the banner, poster or sticker is damaged whilst in your possession, you should let us know.
Using our logo
If you are using the logo on your design you must not:
-Distort the logo. You can make the logo bigger or smaller but do not change the way that the logo looks, see below: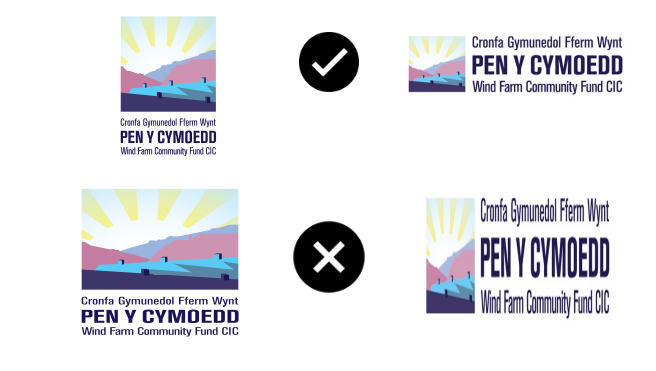 -Alter the colour in the logo. The colour of the logo are the Pen y Cymoedd brand, you should not alter the colour at all.
-Don't remove the background on the image, it should have a white background. This allows the logo to stand out.
We have posters, temporary banners or permanent signs that we may ask you to display or you can request one here